Executive Coaching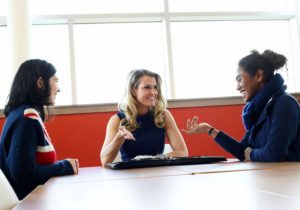 Exceptional presentation, leadership and communications skills are essential in today's competitive business environment. Together we will discover what your team's needs might be and customize a presentation that will empower your staff.
Presentation/Speech Coaching
When presentations become challenges, you need the tools to make public and motivational speaking fun and effortless.
Build new strengths and learn techniques of powerful public speaking
Develop material effortlessly and quickly with the instant speech format
Appear confident by maximizing techniques of nonverbal delivery
Overcome, minimize, and manage public speaking anxiety
Organize and structure materials and reduce preparation time
Learn to utilize visual aids effectively
Learn how to answer tough questions
Leadership Coaching
Strategies for powerful leadership-providing techniques that demonstrate how personal power and influence can build trust and empower teams. Each leadership development program is tailored to leaders' specific personalities and target areas for needed improvement in performance.
Understand the impact of personality and the environment on motivation, follow through, and accountability
Identify techniques and solutions to resolve issues with follow through
Identify myths regarding communication and learn how these myths may be standing in the way of employee motivation and team communication
Utilize persuasive communication model to increase motivation and influence
Understand the importance of person-organization fit and how to select the best employees for your team
Understand how to manage conflict and how to leverage conflict to build stronger teams
Learn how to improve the climate while adapting to the culture
Increase executive power and presence
Minimize misunderstandings by increasing goal and process clarity     
Understand environment and contextual communication and learn how to tailor messages to fit employee needs
Improve engagement and team communication with active listening
Learn when and how to use direct communication
Gain skills in communicating effectively and strategically
Deliver messages with confidence